Sailboat Gift Ideas Grand Opening And Housewarming
Choosing a sailboat model as a housewarming, grand opening or anniversary gift is a great idea. Sailboat gifts in feng shui are considered a symbol of advancement, prosperity and luck, and can help the recipient's living or working space become more harmonious and balanced. In feng shui, sailing boats are considered a symbol of progress, prosperity and good luck. Giving a model of a feng shui sailboat to someone can help them attract and retain positive energies in their living and working spaces. And below is an analysis of the meaning of sailboat model gifts on each occasion.
1. Sailboat gifts for housewarming
A housewarming is an important occasion that marks a family's first step in a new living space. A feng shui sailboat model is considered as a meaningful gift to congratulate the family on finding a place to call home. The meaning of this gift is to help the family create a favorable and harmonious living space, bringing prosperity and luck for the future.
A new house will be more beautiful if it is decorated with luxurious wooden items, the empty shelves are suitable for displaying sailing ships.
2. Sailboat gifts for grand openings
A grand opening is an occasion to welcome the arrival of a new business or a new store. A feng shui sailboat model can be chosen as a gift to congratulate the business owner on his success in opening and bring a favorable and energetic working environment. The meaning of this gift is to help the recipient's business prosper and move forward in the future.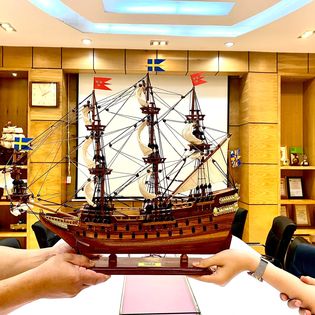 Choose a feng shui sailboat as an opening gift to wish the owner a smooth sailing business in the future
3. Meaningful sailing gifts for celebratory events
A feng shui sailboat model can also be chosen as a gift during anniversaries, such as a wedding day or birthday. The meaning of this gift is to congratulate and bring prosperity and luck to the recipient. It can also be seen as a gift symbolizing love and attachment, helping to create a harmonious and balanced living and working space for the recipient.
Notes when choosing sailboat gifts on special occasions
When choosing a feng shui sailboat model gift for friends, relatives, partners, and customers, you need to pay attention to a number of factors such as:
– Size: consider giving a sailboat model the appropriate size for the location where the recipient can display it. For example, if you are going to celebrate the housewarming of a large house, you can choose a boat about 80-120cm long. However, if the house is quite small and has a lot of furniture, you should only choose a boat with a size of 20-40cm to ensure sophistication without causing a cramped feeling.
– Material: for feng shui sailboat models, the material that should be chosen the most silk is always a wooden boat with cloth sails. Since this is the same material as the real boat, it's like you're giving a real boat to the recipient in miniature.
– Color: because it is a feng shui gift, when choosing a boat, you should also choose a boat model with the recipient's destiny color to resonate with good energies and generate prosperity when displayed.
– Shape: sailboats have many types such as modern sailing boats are quite simple, with delicate beauty, and ancient sailboats are sharp, detailed, with classic and luxurious beauty. Depending on your preferences, guess and choose the boat model that suits the recipient.
Here are some models of sailboat models suitable as housewarming gifts that you can refer to:
https://www.speedboatmodel.com/shop/
To ensure aesthetics and suit the needs of the recipient, you can consult feng shui experts or shops specializing in providing feng shui sailboat models.
In addition, you can also combine the gift of a feng shui sailboat model with other feng shui items such as Buddha statues, feng shui bonsai or feng shui paintings to enhance the impact and bring more luck and fortune for the recipient.
Ending In short
The feng shui sailboat model is a meaningful and popular gift for many special occasions. It not only brings the meaning of luck, prosperity and progress, but also a beautiful decoration in living and working spaces.In addition feng shui sailboat models have many different types, from simple models to complex models with many details. Depending on the occasion and purpose of use, the giver can choose a suitable sailboat model to express his message.
For example, in the case of a housewarming, the giver can choose a feng shui sailboat model with a simple and delicate shape, to create a light and comfortable living space for the family. Meanwhile, in the case of grand opening, the giver can choose a larger and more detailed feng shui sailboat model, to represent the wealth and prosperity of the new business.
To receive feng shui advice from model sailing experts, contact Speed Boat Model now!