Shipping And Delivery Policy
Shipping Process: We will ship through 2 main units, Fedex and UPS, The main goal of this policy is to ensure the transportation of goods efficiently, reliably and meet the needs of our customers.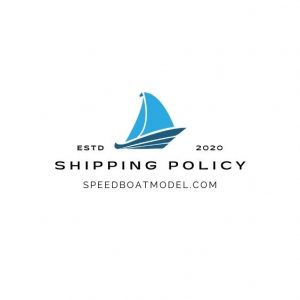 Shipping Time
The shipping process for Speedboat Model is as follows when you place an order:
1.  Order Placement (24 hours Order Confirmation)
After you place an order, we will receive your order information through our website and proceed with packaging and handling of the goods.
2: Shipment to the Carrier (24 hours Processing Time)
Once the goods are packaged and their weight is measured, we will arrange for shipment to the specific carrier, such as FedEx or UPS. Afterward, we will provide you with a Tracking number via email.
3: International Air Freight Shipping (5 – 7 days)
At Speedboatmodel.com, we always opt for express delivery for international shipments. On average, you can expect to receive your order within 5-7 days after the goods have been dispatched to the carrier.
4: Ocean Freight Shipping (30-45 days)
For large quantity orders that prefer ocean freight shipping, we can still arrange delivery through this method. The shipping cost will be significantly lower, but the delivery time will be longer and dependent on the geographical location of your country.
Ocean Freight Shipping Conditions:
You must be an import/export company capable of receiving goods at your port.
Please provide us with the port information where you would like to receive the goods.
Our Shipping Policy Commitment:
We will determine the appropriate shipping method based on the information provided and ensure delivery according to the specified time and location.
| Processing Time | Packaging of Goods | Shipping Commitment |
| --- | --- | --- |
| Prompt order confirmation | Careful and secure packaging | Delivery of goods in intact condition to the customer |
Responsibility for Damaged Goods during Shipping:
If you receive damaged goods, please follow these steps:
Send feedback via email to

[email protected]

or through WhatsApp/Viber at (+84) 38 627 0225.
Take photos of the defective products and send them to us via email, WhatsApp, or Viber.
We will handle your order according to our REFUND AND RETURN POLICY.
Contact Info